TPLINK Router Setup for Brand X Internet
TPLINK is a line of Chinese made routers sold by our neighborhood Macmall store.
They are very inexpensive and are generally a good value.
These instructions will help you set up a connection with DHCP or PPPOE. If you have PPPOE you will need the username and password.
Hardware Setup
Connect up your modem to the phone line and then connect an ethernet cable from the modem to the router. You also need to connect your computer to the router via an ethernet cable, then follow these steps:
Logling into the router
Open the web browser and type the IP Address of the device in the address bar (default is 192.168.1.1) then press Enter .
Type the username and password in the login page.
username=admin
password=admin
Click OK to log into the device.
Run Quckstart/Wizard
Click Quick Start from the menu.

This takes you to the "Quickstart Page". Click "RUN WIZARD".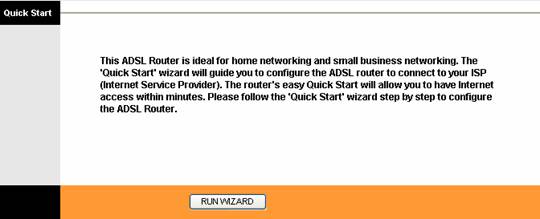 This page will come up. We are going to go through this connection wizard, but we really only care about step three, which is where we set the connection type. So we will just quickly click through the first couple of steps.
Here's te first page.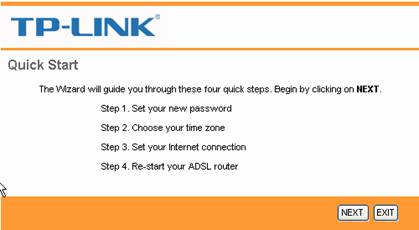 Click next.
On the next page you can set a new admin password. This is probably a bad idea unless security in your home is really a problem. We suggest that you leave the default passwords so that the setup on your router will match the set up in the manuals and these instructions.
If you really muist change the password, be sure to write it down and not forget it.
Click "Next".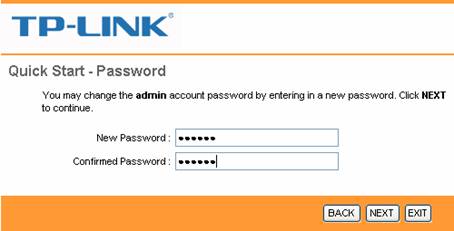 On the next screen you can select the correct Time Zone. It doesnt really matter much. Click NEXT.
The following screen will come up and let you choose the connection type.
Set the Connection Type
Your connection will be DHCP or PPPOE or Static. Check with Brand X support if you are not sure.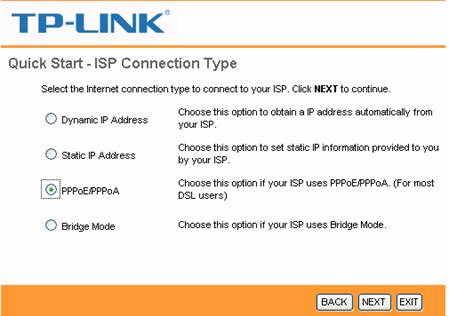 Select the right connection type and hit "next".
DHCP Customers
Select "Dynamic IP Address" from the menu above and click "next".
If you are a dhcp customer you are done with the connec tin confirutatino.
You will also need to set up your wireless nework. See the notes on this below..
When you are done with that, hit "next" and eventually the router will restart. You should now be online.
PPPOE Customers
If you are a PPPOE customer you need to fill in the following form.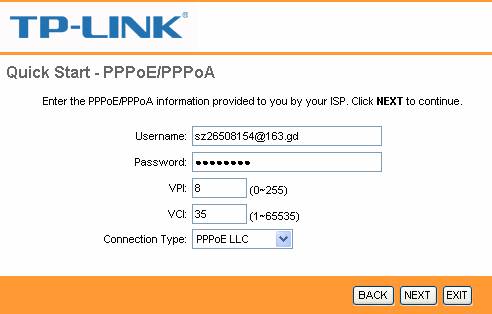 Use the username and password you were given by Brand X Internet.
I don't think you need to do anything with the VPI and VCI.
Click Next.
Wifi Configuration
This applies to DHCP or PPPOE customers.
Most TP-Link routers have wife capability.
If you want to use wifi set Access Point to "Activated" and configure the security.
SSID is the name of your wifi network.
Key is the password you would like to have for wifi access.
Type in your information into this form: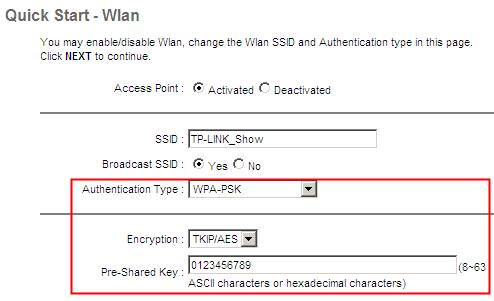 Click NEXT and Close to save the settings.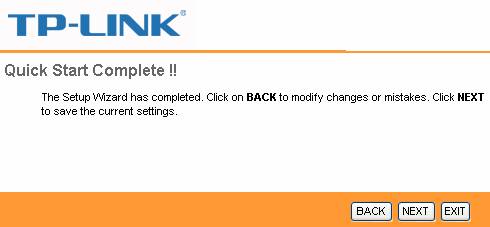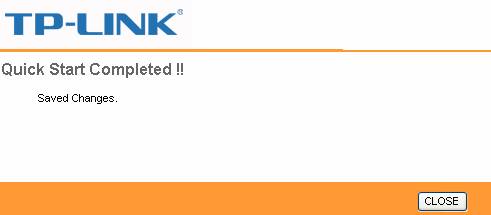 When the quickstart is done, the router will want to restart this is fine. When it comes back up, you should be online.
Problems
If you have trouble getting your TP-Link router to work, here are some things to check
Make sure your line is really completed with the installation. Sometimes there will be one install date for the telephone line and another for the actualy turn on of the dsl. This is a frequent source of confusion.


Make sure you have good lights on the modem indicating a good DSL signal. There is a separate section in our online support area that explains about setting up the modem.


If you have a PPPOE connection, frequently there is confusion about passwords and usernames. Your username is usually something of the form 3105551212@value.net and the password is something like hkjjhjkh. If your username or password look a lot different then you might want to double check them.