Setting up Covad DSL
Covad is an independent telephone company that specializes in high speed digital lines. Their lines have a two year committment and special equipment, but they offer extra speed and very low pricing.
Setup on Covad lines is a little different than on ATT or Verizon lines.
Comtrend Modem
Covad requires the Comtrend modem/router, so these instructions will tell you how to set that up.
Plug your telephone wire (no filter please) into the Comtrend unit and then connect your computer to the comtrend device with an ethernet cable.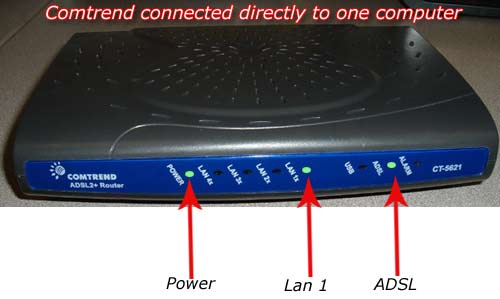 When you have the Comtrend directly connected to your computer, give things a few moments to stabilize, and then you should see three lights:
1. Power (green, solid) - This means power is connected.
2. Lan1x (green, sometimes slightly flashing) - This means your computer is connected.
3. ADSL (green, solid) - This means DSL is connected.
If you don't see the right lights, then we have some kind of signal or cabling issue.
Do not go to the next step until you have the correct lights on the modem. Try rebooting the Comtrend device. No configuration is required to get the right lights. It's all cabling. If the signal is good, you should get good lights.
Test Internet Access
In some cases this is all you have to do to get your DSL going. If your computer is already set for DHCP, you should be online.
Test by going to a website that you have never visited before. For example, go to google and search for "orientalist art" and see if pages come up. If they do then you are set.
Note that email will require separate setup. This just gets your connection going. Check our support section for more information on email.
Configure the modem
If the modem is working, but we're not online, the next step is to have a look at the modem setup.
Make sure your computer is set to "dhcp". There are separate instructions for this elsewhere.
Now put 192.168.1.1 into your browser window to log into the web page form in the router.

The form should come up and ask you for a username and password. The default values are:
User Name: root
Password: 12345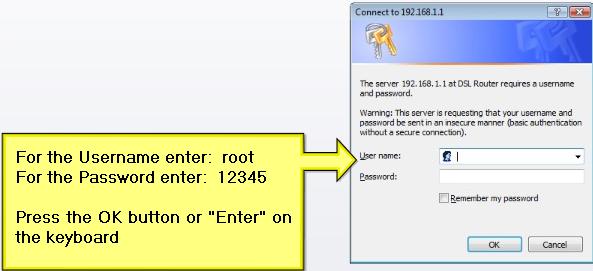 If the form does not come up, this means either your cable is not plugged in correctly, or your computer is not set up to use dhcp.
You must be able to view this web page in order to configure the router.
After your password is accepted, you should see the home screen of the router: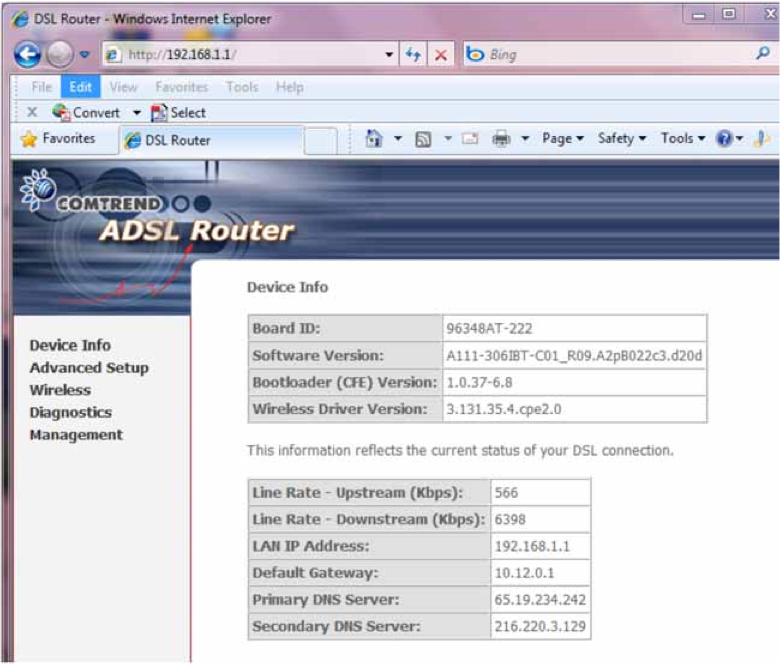 The information you see will be slightly different.
Comtrend PPPoE setup
Go into the setup. You should see the following. "Turn off DSL Autoconnect."

Set the VCI and VPI as shown in the diagram:

Turn on PPPoE

Enter the username and password.
This will be a special username and password given to you by Brand X Internet (not your email password). It should look something like this:
DSL Phone: 9494947317 Username: 9494947317@value.net Password: cjadahei

On this screen you don't need to do anything....

On the next page don't change anything, just leave whatever numbers you find...

Verify that the connection settings are correct.....

Restart and you should be online.