Arris/Motorola NVG510 Modem Router Configuration for Brand X Internet
The Arris device is not one of our favorite devices. It's a combination Voip and WiFi router, custom configured for AT&T Uverse, and hard to configure to do anything else. "NVG" is rumored to mean "Not Very Good". There is no way to configure the upstream connection.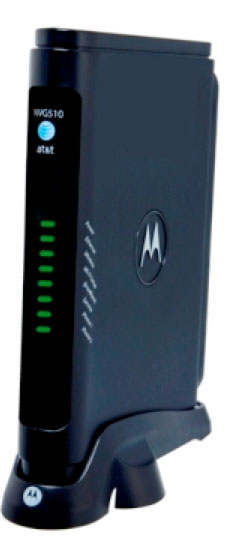 This router can only be used for connections on AT&T. It cannot be used on Frontier or Verizon.
This device automatically senses the service type and sets itself up. If you have one of these and want to try to connect it up, reset it to factory defaults by pressing the "reset" button on the back for twenty seconds. Make sure you have a good DSL signal. Plug it in, and it should connect and come online. The default Wifi username and password are on a sticker on the side.
Setup is essentially the same as the setup for the Arris NVG589.