2wire Setup for Brand X Internet
This Brand of router is distributed by AT&T to many of their customers. Since we have many customers coming from AT&T, there are quite a few of these routers on our network. These instructions are designed to help you get going with the 2wire unit, and to reconfigure it to connect to our network. These devices usually have one ethernet input, four ethernet outputs, and wifi capability.
2wire was purchased by "Pace" in 2011 and newer units will have that name on them.
Set up the Router
If you got this from AT&T it's probably already in place and set up, but if not, put your telephone line in the telephone jack and the power cord in the appropriate slot.
Your computer can be onnected by ethernet to one off the ethernet jacks. You can also connect via wifi to do your configuration, but this is more difficult. We prefer to do it with an ethernet cable if we can.
Lights on the Router
We can learn a lot by looking at the lights on the front of the router. Look at the lights, and make sure the DSL light is solid green (not blinking) before you try to configure anything. This means you have a live DSL signal. If you don't have a DSL signal nothing is going to work, so don't spend a lot of time trying to configure.
Here are the lights: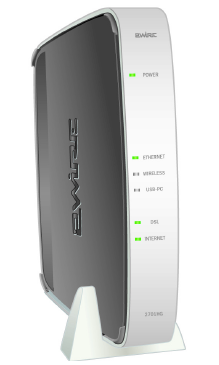 Here's what the lights mean:
Power: A green light means you have power
Ethernet, USB, Wireless: A green light means something is connected. Blinking means traffic.
DSL: If it's solid Green - The DSL signal is good. Blinking Green: Trying to connect. Anything else: DSL signal is not good.
You definitely need a SOLID green light here.
If you don't have a DSL signal then your DSL is not going to work. Check your cables and make sure the telephone line is plugged in snugly. Are there other jacks in your home that you should try? This is sometimes a solution. Are you sure the installation date has passed? If installation is not complete the line may not have a signal yet. Is there a filter on the line? Filters kill DSL, remove please. If nothing else works, give us a call and we will check with the Telco and make sure they have set things up correctly.
Internet: If this light is green, then you are probably online.
If the DSL light is solid, we are ready to configure.
Locate Serial Number and Encryption Key
You may need the serial number of this unit in order to configure.
If you need this information, locate the sticker on the bottom of the rouer which has the serial number and another number below it, ten digits long, that is an encryption key.
Found the sticker? Great. Let's configure.
Connect to the Router Via WiFi
We are going to configure this router via WiFi. To do this you need the network name (SSID) and password (encryption key).
If this router is setup to the default settings then the network name is the word '2WIRE" followed by the last three digits of the serial number. For example, 2WIRE110.
The encryption key is the number is the ten digit number on the sticker below the serial number.
Connectig to the Router Via Ethernet
Connecting via ethernet is usually easier. Plug an ethernet cable from your comptuer to the router. Turn off your wifi so the computer doesn't get confused. Now reboot the computer. You should be connected.
Key Code
You need a key code to unlock the device. The following are AT&T codes that should work for your device.
If your connection is DHCP, with no password, then use this number: 522P-22P4-2262-22AT-F2L3
If your connection is PPPOE, with a username and password, then use this number: 522P-22P4-6262-22AT-F2NV
If your connection is static addresses, then use this number: 522P-22P4-2262-22AT-F2L3
More informaiton about these key codes can be found at http://2wire.com/?p=268
Configuration Wizard
I am assuming you are connected either via wifi or ethernet to the router.
Open your Internet Browser (Explorer, Chrome, Safari, or Firefox) and type http://gateway.2wire.net in the address box.
When instructed to enter a key code, choose one from the list above. If you are not sure, try the one for dhcp.
If your connection type is PPPOE then the router will ask you for a username and password. The username will be something like 3105551212@value.net and the password will be something like asdfasd. You should have received these in an email if your conneciton is pppoe. You won't be able to guess these, so call us if you get stuck.
If you are not sure, set this up as DHCP with no username or password.
Manual Configuration
If your router doesn't go into configuration mode automatically, you may see an interface a little bit like the one below. We can do manual configuration.
Open your Internet Browser (Explorer, Chrome, Safari, or Firefox) and type http://gateway.2wire.net in the address box.
Select "Broadband Link" and then "Advanced Settings".
This is easy to configure. Set the connection type to DHCP or PPP depending on your connection type. PPP and PPPOE are the same thing.
If you have a PPP connection input the username and password you were given. If you have DHCP, there is no password or username.
On the connection type, if you are not sure, try DHCP.
All the other settings should be set on automatic. Most of these settings you won't want to touch.
Click "Save" and a moment later you should be online.